Midcoast Maine Boating
Visitors to this Midcoast Maine boating center can go on a whale watch or a seal watch, explore a working lighthouse, or join a sea kayaking nature tour.
Boothbay Harbor, Maine, is all about boats. Tour boats, private yachts and powerboats, historic windjammers, and working lobster boats crisscross the busy harbor. Summer visitors who want to see the area from the water have many choices.
Most excursion boats leave from the piers along Commercial Street. Visitors can make reservations by phone or walk up to the ticket booths. Boat trips are offered from late May through early October, with more frequent sailings in July and August.
Paid parking is available in lots on Commercial Street and around town. A free option is to park at the Mini Mall on Route 27 and take the trolley to the piers. It's always chilly on the water, so a sweatshirt or jacket comes in handy, along with binoculars.
Seal Watch, Whale Watch, and Harbor Cruises
The most popular trips out of Boothbay are short cruises of one to two hours. Tours pass islands dotted with cottages, boats moored in snug coves, working lighthouses, and lobster fishermen hauling in their traps. Gulls circle overhead and ospreys can be seen on their nests. Seal watch trips go a bit farther out to look for colonies of harbor seals basking in the sun on ocean rocks.
The Cap'n Fish tour line offers a variety of excursions, including a seal watch and a puffin cruise. Their large boats have an open-air top deck and a heated, enclosed cabin and accommodate 100 or more passengers. The captain narrates the tour over a loudspeaker, pointing out features of interest.
Boothbay Whale Watch and Cap'n Fish Whale Watch make trips of three or four hours out to the whale feeding grounds to look for finback, humpback, and minke whales, as well as dolphins and porpoises. Most passengers see whales, but those who do not may receive rain checks for another try.
For those who prefer sailing, the Eastwind, a traditional wooden schooner, makes a two-hour cruise to the outer islands. The schooner Lazy Jack, a 48-foot historic windjammer, takes up to 15 passengers. Balmy Days Cruises offers sailing trips aboard the Bay Lady.
Lighthouse Tours
Working lighthouses in the Boothbay region include those on Burnt Island, Ram Island, Pemaquid Point, Hendrick's Head, and the Cuckholds. The Balmy Days' Novelty makes the short trip to Burnt Island, where visitors can climb a spiral staircase to the top of the lighthouse tower. In the lantern room, a keeper explains how the lighthouse works. Several of the Cap'n Fish tours pass the Burnt Island, Ram Island, and Pemaquid Point lights, and the line's Kennebec River–Bath cruise passes seven lighthouses.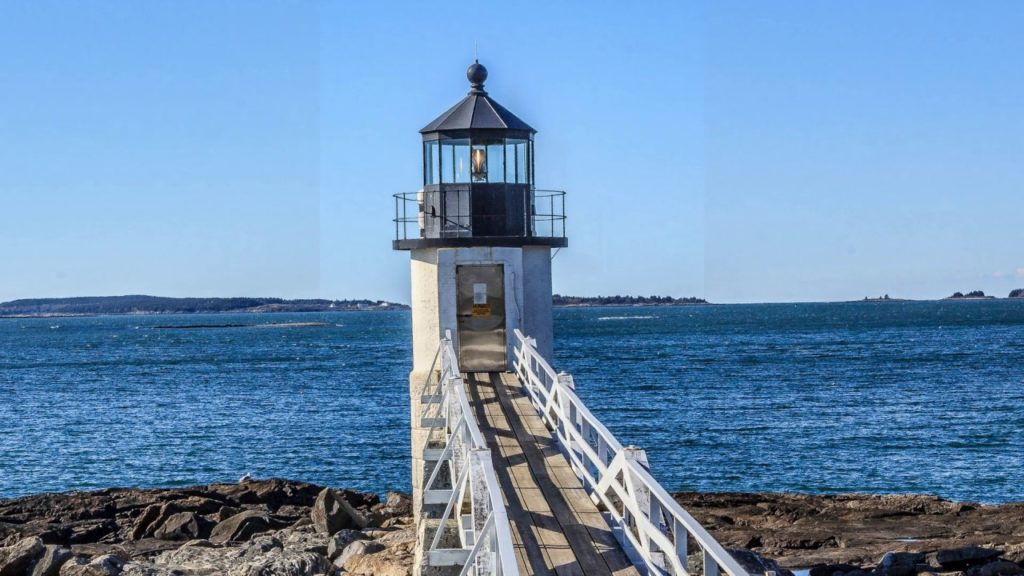 Monhegan Island Day Trip
Twelve miles out to sea, Monhegan Island is a summer haven and artists' colony, accessible only by boat. The Balmy Days sails to Monhegan daily in summer, leaving in the morning and returning in late afternoon. On the island, visitors can stroll through the village, explore art galleries, and enjoy lunch at a restaurant or fish shack. Hiking trails lead to spectacular ocean cliffs on the backside of the island.
Sea Kayaking Nature Tour
The Boothbay region is a favorite for sea kayaking, and colorful kayaks dot the waters around the harbor. Tidal Transit Kayak Company offers a variety of guided kayaking tours, including a wildlife tour up the Sheepscot River to see ospreys, herons, eagles, and a colony of harbor seals. Tidal Transit also takes paddlers to nearby Burnt Island and farther out to Damariscove Island.
Evening Cruises
After sundown, harbor lights and moonlight on the waves set a special mood. The Novelty makes a one-hour roundtrip to Squirrel Island several times each evening. Those who like to party may prefer the weekly "reggae cruise" on the Harbor Princess.
Cabbage Island Clambake
In this Boothbay Harbor tradition dating to the 1950s, visitors take a four-hour boat ride to Cabbage Island in Linnekin Bay, where they enjoy a traditional feast of Maine lobsters and clams.
Boothbay also offers a variety of private charter boats, including fishing charters. Information about tour boats and other activities in Boothbay Harbor are available from the Boothbay Harbor Region Chamber of Commerce.