You wouldn't expect a Disney Vacation Planner to write a blog post like this, but let me assure you, this is a MUST read before you go to Disney!
If you ask anyone who has been to Disney and NOT enjoyed themselves, I'm betting their vacation went a little like this:
We're going to Disney
"Hey honey, let's go to Disney!" They surprise the kids, pack up their stuff and off they go. (Probably not quite that last minute, but they didn't do any research or planning, because they didn't know they should.) I know some of you are sitting back thinking, HUH?? We can't just show up at Disney World and have fun!? Unless you want to be the family walking around, yelling at your kids and not having any fun – you need to RESEARCH and PLAN!!
Now, back to our family – they get to Disney on one of the busiest days of the year, about 2 hours after the park opens, thinking they will miss the early crowds trying to get into the Magic Kingdom by arriving late. They grab a map and try to figure out where to go. They walk inside the gates and they are suddenly in a massive swarm of people.
They can't see anything around them, they can't focus on all of the beauty of Main Street, and they don't take time to smell the Disney magic – Disney pumps different scents through the parks to enhance the experience, but when you're so focused on the masses of people, you may be missing out.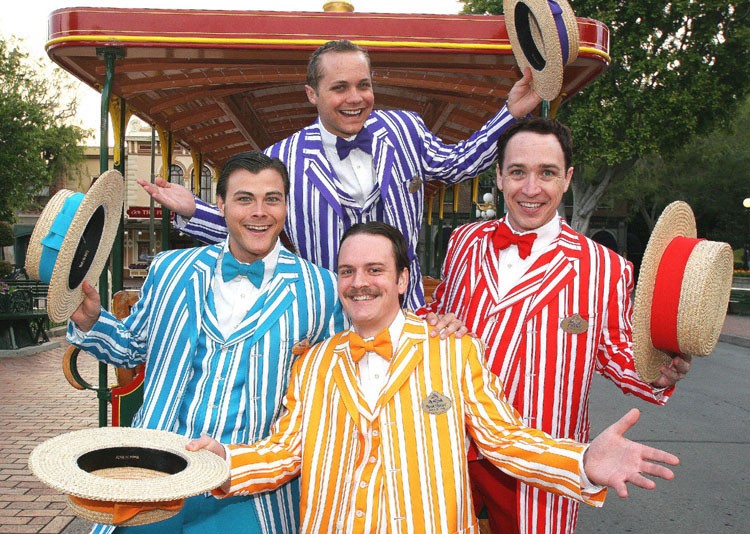 They stop and watch the Dapper Dans, with their enchanting four-part harmony for a bit and finally decide that instead of looking at the map, they'll follow the crowds and just go with the flow instead – this is vacation, after all, they have all of the time in the world.
They arrive at the first attraction they see, wait to get in, and finally experience their very first Disney attraction – Walt Disney's Carousel of Progress. At just over 20 minutes, and a somewhat "dated" attraction, they walk out a bit disappointed. (**see note on this below)
The kids complain that they just want to ride some rides, but it's now just past noon and everyone is also getting hungry. They pull the map out and try to figure out where to go. They walk 10 minutes to the Liberty Tree Tavern, only to be turned away. They didn't know the restaurant has been booked up for months. They walk to their second choice and again, it's booked all day. It's now 1:00 and mom and dad are yelling at each other and the kids are crying because 1) they're hungry, 2) they're HOT and 3) they haven't even done anything yet.
They find a bench and sit down to collect themselves and review the map. They take a vote and everyone decides to head to Dumbo. Finally! They are going on a ride! The kids are so excited and jumping up and down and mom and dad aren't yelling anymore….life is good.
Then they get there. Ugh, the wait to get on Dumbo is over 90 minutes! They feel defeated! "I'm not waiting an dumbo hour and a half to ride a flying elephant around in a circle!", exclaims Dad. The kids start crying. They really wanted to go on Dumbo!
Mom pulls the map back out, locates the Tomorrowland Speedway and sees it's not too far away. She is hoping if they get out of Fantasyland, they'll have better luck. They walk through the masses of people, trying to get from Fantasyland to Tomorrowland and they finally get through after about 15 minutes. They have sweat dripping down their faces, they're exhausted from walking back and forth all over the park and they just want to ride a ride! Again, they walk up to the Speedway and see the wait is over an hour. Their vacation has just been ruined and they will now tell everyone how horrible Disney World is.
As you can see, the 2 reasons people hate Disney – the lack of RESEARCH and a PLAN.
So, you're ready to research and plan a Disney vacation, but where do you start? First, you need to research the best COmputer frustrating time to go. Then you need to research which park to visit each day because the crowd levels can be drastically different from day to day and park to park. You want to make sure you pick the right one or you will be miserable!
You need to book your restaurants 6 months in advance and decide what FastPass+ reservations to get 2 months in advance, but how do you know which ones are good? You could spend hours researching the best restaurants, more hours researching the best FastPasses to get, but even with the best research, you still haven't experienced it so you can't figure out how to put it all together.
This is where you need to rely on a Disney Travel Planner. This is different than a travel agent or even another company that calls themselves Disney Travel Planners, but they really just took on a different title. They will hear what you want and they will book your vacation. Some go an extra step and will book your dining reservations and FastPass reservations. They will do this without a fee, which is fine because they spent less than an hour "planning" your vacation. If you want to see how my services are different, please read the blog post lined below:
The Difference Between a Travel Agent and a Travel Planner
Regarding the Carousel of Progress, please note, this attraction is considered a tribute to Walt's Legacy and you should experience it; however there are better times to enjoy it – such as when the baby needs a nap or in the afternoon when it's really hot and you just need to sit down in the air conditioning for a bit.